Reading in English and Spanish with our beautiful Picture Books for kids.
We now have all of our Picture Books in English and Spanish on the Apple Store, Google Play, Amazon Kindle, Amazon Paperback and the Caribu App. Our new interactive books on the Apple Store and Google Play for kids include animations and sounds plus amazing fun activities in our website that children can enjoy and interact with for when the story is over. Some of the features that the books include are:
Read to Me On and Off–
Story with narration,
Sound-effects,
Auto-animations and
Interactivity
Songs
On our website fun activities – memory games, drag and drop games, coloring in, mazes, guess the word games, match, flashcards and draw and color
All these interactive features enhance language learning and tap into young children's interests. Children can tap on several items on the screen that cause a character to move or a joyful sound to play.   Picture Books on the Apple Books Store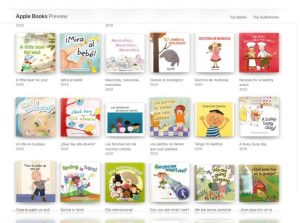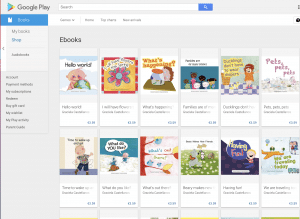 Our Picture Books are also available in digital format at Languages4kidz Shop.
At Languages4kidz we do our best to provide as much robust and variable content as we can, and give parents the option of delivering that content to their children in whatever way(s) they choose. All our Picture Books are provided in digital and in paperback format and the educational interactive activities that complement them may be experienced and enjoyed by a parent/child together at the computer, tablet or phone according to the parents' preferences. We are truly respectful of all parents' choices, and hope to be providing materials that are robust and flexible enough to delight our diversity of Languages4kidz families.